Unmarried Equality is a nonprofit organization that advocates on behalf of unmarried people in the United States, including singles and gay couples unable to marry. Rainworks volunteered to build UE a new website, which included transitioning from an out-of-date version of Joomla! to WordPress.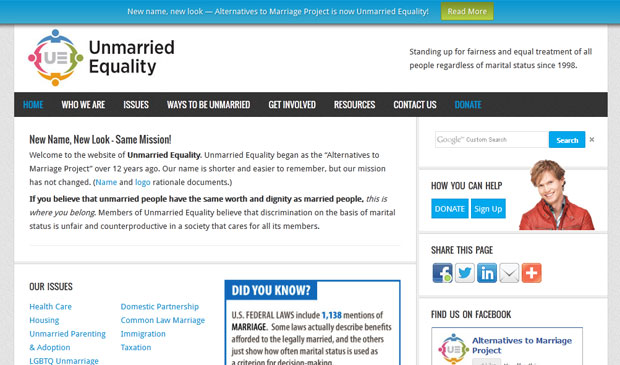 Features
Migration from Joomla! 1.5 to WordPress, including all old content on the site
Uses the Genesis Framework
Fully

responsive design

Animated, multi-tiered navigational menu
Several homepage elements are dynamically generated based on blog content added
Photo gallery of supporters
Ability to add related items to a page, to encourage users to stay on site longer
Banner message at top of every page, alerting users of the organization's name change from Alternatives to Marriage Project to Unmarried Equality. Users can minimize it and it maintains state across pageviews
Integrated new design with Salsa, a nonprofit organizational and managerial tool, so that email signup page, donate page, and email templates match that of the website
AddThis used for social sharing and "Follow" buttons, to foster social media perticipation

RSS feed

of blog
Kelly came to us through VolunteerMatch.org. Our nonprofit mission resonated with her, and she was looking for a meaningful volunteer experience. We were in the process of rebranding our 15 year-old organization, and needed a revamped website. Kelly was wonderful to work with. She understood our needs and the vision I carried in my head. She was able to work with my stream-of-consciousness style, and made sure that she was clear on what I was trying to convey. She is responsive to questions, and if she doesn't have an immediate answer, she does the research. When it came to crunch time just before launch, she dedicated an enormous amount of time to help me meet my deadline. We now have a website that I am proud to share, and the response to its clean look and ease-of-use has been 100% positive. I couldn't ask for a better volunteer experience. I hope to have the opportunity to work with Kelly in the future, and am delighted to recommend her to anyone who is considering website creation or a refresh.
— Cindy Butler, Executive Director, Unmarried Equality
---
Responsive design is an approach to web design and development that dynamically responds to the size of the device the visitor is using. This might include automatically adjusting font sizes, moving elements into a more narrow column, and making buttons and links larger and easier to hit with your thumb if visiting a site on a touchscreen mobile device.
jQuery is a very popular Javascript library that speeds up Javascript development and allows for a more interactive experience for the user.
Real Simple Syndication
or
Rich Site Summary
is an XML-based technology that allows content providers (websites) to push content to subscribers' instead of hoping that users remember to come back to the website to check for updated content. Subscribers must have
feed reader software
– such as
Google Reader
– to read feed content.