Note that Sunnking has since redesigned with a new developer, so you will not see the below design if you visit their site.
Sunnking, an electronics recycling business, wanted a fresh look and feel to their site, as well as a centralized CMS to manage both static site content and blog content.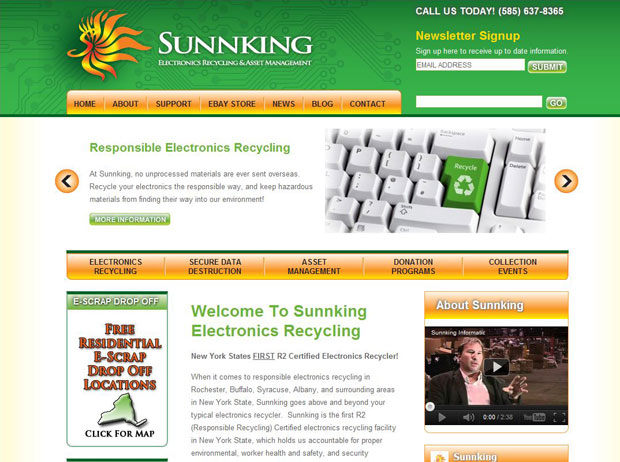 Features
Site redesign and upgrade from MODX Evo to MODX Revo CMS
Folded existing WordPress blog and content into CMS for purpose of centralizing content and administrative efforts
Scrolling

jQuery

banner (images plus copy) on homepage
Full-featured blog with commenting, tags, and archive
Dynamic blog listing on homepage
AddThis used for social sharing, to foster social media perticipation
Dynamic navigation based on content

RSS feed

of blog
Contact form with

validation
---
A content management solution (CMS) enables content writers and site administrators to maintain a website by giving you an intuitive environment to work in — no knowledge of HTML is required.
Real Simple Syndication
or
Rich Site Summary
is an XML-based technology that allows content providers (websites) to push content to subscribers' instead of hoping that users remember to come back to the website to check for updated content. Subscribers must have
feed reader software
– such as
Google Reader
– to read feed content.
jQuery is a very popular Javascript library that speeds up Javascript development and allows for a more interactive experience for the user.
Form validation assures that a form is filled in properly and that you receive the data you expect. For example, all required fields are filled in, and any submitted email addresses are properly formed.